Are Coursera Certificates Worth It? What Is The Value Of Its Courses?
You might be contemplating about getting a Coursera degree or certificate but you have some questions in your mind – Are Coursera certificates worth it? What is the value of Coursera courses? Are they useful in your career? Can you use them for job application?
Let me categorically say this, Coursera certificates are worth it. They provide a good value in the job market and can be useful for your career. The courses are offered in partnership with the leading global universities. Coursera's higher level programs viz. specializations and degrees matter a lot. They can help you in finding jobs and upgrading your career. It is safe to invest your hard earned money in Coursera courses.

Read on to understand why I think it is beneficial to invest in Coursera certificates. You can also read my other article which provides a full review of Coursera.
Note: If you don't want a proper certificate you can audit most Coursera courses free of cost.
Are Coursera Certificates Worth It?
You can say something is worth it only if its benefits outweigh the cost. In our case, we can say Coursera certificates are worth the money if it helps us in one of the following things:
landing a new job
getting a promotion.
showcasing the knowledge to peer group
Even though Coursera doesn't help in building your career directly, but its courses are can equip you with the necessary knowledge and skills that is sought by the employers.
Let me talk about the top benefits of Coursera.
1. Learn from the Top Institutes
A lot of people have a desire to get high quality education from a top institute. You might be one of them. You may want to pursue a course from an university like Yale, Columbia, or Stanford. You can do so through Coursera.
Coursera courses are completely legit. It offers courses only from the premier institutes. It has partnered with US as well as leading non-US universities UC Davis, Penn State, University of London, University of Toronto, INSEAD and many others. It has also partnered with many big companies like AWS, PWS, BCG, and Honeywell to provide professional courses.
At the time of writing this article, Coursera had partnered with 200+ institutes in 48 countries.
2. Get Certificate or Degree at a Low Cost
Coursera provides five different types of courses/certificates at a very low cost.
Online Courses – These are single courses on various topics and skills that have a good industry demand.  You can find courses on technical subjects, pure sciences, business administration, and many other things. Some examples are Python, machine learning, cloud computing, strategy, finance, economics, and probability. You can do these courses for as little as USD 39.
Specializations – These are a package of course that give you in-depth knowledge about a subject. A specialization are much more involved and rigorous than a single course. You can do a Specialization for as little as USD 39 per month.
Professional certificates – Professional certificate courses are similar to single courses. They are designed by the top companies and universities to give you exposure to current technologies. These certificates are completely career oriented. You can do a Professional certificate course for as little as USD 39 per month.
MasterTrack certificates – These are portions taken from the Master's programs. The coursework from MasterTrack is counted towards Master's degree. It helps you to earn a high quality university-issued credential at a very low price. The price for a  MasterTrack certificate starts at USD 2,000.
Degree programs – These are regular Bachelor's or Master's programs that can be pursued online. You will get the same credential as a on-campus student who attends regular classes. The all-in price for a Degree program starts at USD 15,000.
A university Degree from Coursera costs much less than a equivalent regular Degree. For example, a regular MBA could push you back by more than USD 100,000 but you can pursue same MBA curriculum on Coursera for less than $20k.
You can read my other article on Coursera cost to understand completely about Coursera pricing.
At the time of writing this article, Coursera had 4000 courses in its catalog.
3. Get Certificate or Degree from a Top Institute
Coursera issues a certificate after you complete a course. If you do a Specialization, Coursera will issue certificates for all the course that are included in the Specialization and a Specialization certificate.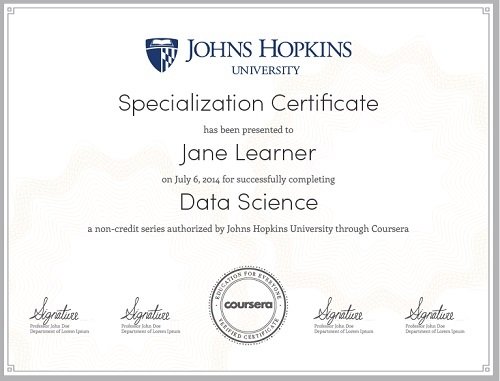 The certificates/degrees issued by Couresra come with the stamp of Institution from which the course is done. A course certificate includes:
Name of the course or Specialization.
Signature of the instructor.
Logo of the partner institution, which is offering the course.
A URL to verify and check the authenticity of the certificate.
A confirmation that Coursera verified the identity of the learner.
4. A Modern eLearning Platform
Most eLearning platforms provide video lectures and reading material but these are not enough for complete learning. Coursera also provides excellent videos and reading material but it also offers many other features. These features help in holistic learning.
The tasks will be in the form of small quizzes, assignments, etc. You have to complete those within the time limit provided. The tasks and quizzes submitted by you will be reviewed by the professor. If everything goes well, you will be awarded the certificate.
Forums – You can use online forum to post your queries and interact with the student community. You can learn different perspectives about the subject you are studying.
Quizes – There are small quizzes with each course, which help you revise the learned content and check your knowledge.
Assignments – All courses have practical assignments that follow learning by doing approach. You have to submit the assignments to earn the certificate.
Take help of Instructors – You can interact with Instructors for certain higher level courses like MasterTrack. The instructors can help you in clarifying your doubts.
5. Employers Respect Formal Credentials
Nowadays, employers look for people who have additional knowledge and skills. A certificate from a leading institution give you an extra edge in demonstrating your knowledge. Furthermore, hiring managers like to hire motivated and self-drive people. They appreciate someone who has invested his own time and money to learn.
A Harvard-MIT study shows that certification rates is significantly high among those who pay for their courses – 59% vs. 5%.
6. Showcase Your Credentials in LinkedIn
After earning a certificate or degree, you can post your certificate on your LinkedIn profile. Recruiters will be able to see your pdf certificate by clicking on the course title from your profile. You can also share your certificate by using a secure Coursera URL.
7. Coursera Gets You Job Ready
The courses offered by Coursera get you job ready. Specializations and professionals certificates are completely career oriented. They are specifically designed to give you in-depth knowledge of a topic that is in current demand by the industry.
You can read my other article on best courses on Coursera to find out the courses that would be suitable for you.
Coursera Certificates Value
Coursera does not help you in getting a job but it offers numerous benefits that can help you in your career. Students and working professionals from across the world can invest in its higher level courses to get the maximum advantage.
In my opinion, Coursera certificates are valuable and its courses are worth your money. Having said that, before investing, you should explore the utility of its courses. I would recommend you to start by evaluating some of its programs by joining it for free.
Over To You
What is your take on Coursera? Which certificate or degree are you planning to take and why?
Let me know in the comments section below.