Best Anatomy & Physiology Accredited Online Courses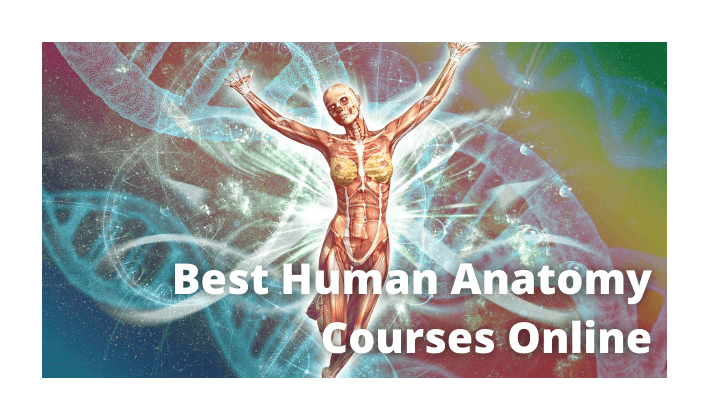 You might be looking for the best anatomy course online. I have written this post for review and side-by-side comparison of top human anatomy and physiology classes that are accredited by leading universities.
A good anatomy course should provide knowledge of all parts of a human body, its normal development process, functioning, and changes across the lifespan. It should also give details of diseases, their causes, diagnosis, and treatment. Additionally, it should help you in your career and job.
In this post, I have reviewed only those programs that are offered by leading universities. I have done so because a c;ass from accredited university will not only help you in obtaining in-depth knowledge but also give you a credential certificate and industry recognition.
Best Human Anatomy & Physiology Online Course
1. Best Overall – Coursera Anatomy Specialization
2. Best for Beginner – edX Human Anatomy for Stroke
3. Best Value for Money – Straighterline Online Anatomy & Physiology I
You can find detailed information about these classes below in this article. I have rated and ranked them according to their accreditation.
Here is a quote that suggests why you should pursue a career in human anatomy.
"Employment in healthcare occupations is projected to grow 15 percent from 2019 to 2029, much faster than the average for all occupations, adding about 2.4 million new jobs. Healthcare occupations are projected to add more jobs than any of the other occupational groups. This projected growth is mainly due to an aging population, leading to greater demand for healthcare services."
The above statistics are from 2019 but things have changed rapidly after 2019. The demand for healthcare workers have grown rapidly all over the world due to the emergence of the COVID-19 pandemic. The pandemic has put extra pressure on healthcare services.
I have not included some other courses in the ranking as they focus on specific parts of the human body. But you may be interested in them. Here is a list of those courses.
Review of Top University Accredited Courses
1. Coursera Anatomy Specialization – University of Michigan
University of Michigan Certificate
5 Months
4 hours a week
Self-Paced
Introductory
In this course, you can explore human anatomy using a systems approach and a vast library of multimedia materials so that you may understand the features of different organ systems about the human body's form and function.
This course is offered by Coursera, which is an accredited platform for the students. You can read my article to understand why Coursera is legit.
This Specialization covers the following organ systems:
Integumentary System
Musculoskeletal System
Cardiovascular System
Respiratory System
Urinary System
Nervous System
Gastrointestinal System
Reproductive System
Endocrine System
This Specialization takes advantage of a highly visual multimedia library of accurate anatomical models and materials to help you better understand the topics.
What will you learn?
Integumentary system anatomy and function
Skeletal system anatomy and function
Joint classifications, function, and clinical correlations
Skeletal muscle anatomy and function
Key features
Earn a Certificate upon completion
100% online courses. Start instantly and learn at your own schedule.
Flexible Schedule. Set and maintain flexible deadlines.
Beginner Level. No prior experience required.
Approximately 5 months to complete. The suggested pace of 4 hours/week
Language English. Subtitles available in English, Arabic, French, Portuguese (European), Italian, Vietnamese, German, Russian, Spanish
Course structure
Anatomy: Musculoskeletal and Integumentary Systems
Anatomy: Cardiovascular, Respiratory and Urinary Systems
Anatomy: Human Neuroanatomy
Anatomy: Gastrointestinal, Reproductive and Endocrine Systems
Certification
Available with Paid Plans.
Trainers
Kathleen Alsup – B.A., M.A., and Ph.D. in Biological Anthropology, University of Tennessee
Glenn M. Fox – Ph.D., M.S., and B.S. in Biology, University of Michigan, Ann Arbor
Kelli Sullivan – Ph.D. in Department of Anatomy and Neurobiology at the University of Kentucky
Additional features
Shareable Specialization and Course Certificates
Self-Paced Learning Option
Course Videos & Readings
Practice Quizzes
Graded Assignments with Peer Feedback
Graded Quizzes with Feedback
Graded Programming Assignments
Things I Didn't Like
You will need to pay for all support, quizzes, assignments, and certification.
2. Best for Beginner – edX Human Anatomy for Stroke – The Hong Kong Polytechnic University
Hong Kong Polytechnic University Certificate
2 Months
4-2 hours a week
Self-Paced
Introductory
This course is from multiple healthcare professional perspectives through a case-based study of stroke.
If you find the Human Anatomy textbooks are too difficult to read, or if you want to freshen up quickly your knowledge, this is the course for you. edX offers this course with a university certificate.
You can read more about advantages and disadvantages of edX in my article on review of edX.
What will you learn?
Effects of stroke on the human body
Anatomy of relevant body systems at gross and histological levels
Services provided by healthcare professionals for stroke patients
Relevant knowledge of anatomy for application of clinical procedures
Key features
Estimated 8 weeks – 2–4 hours per week
Level: Introductory
Language: English
Progress at your own speed
Free – Optional upgrade available
Course structure
Module 1 – Stroke Case Presentation
Micro Movie
Clinical summary
Interview with the stroke survivor
Module 2 – Human Anatomy Lectures
Body systems and important organs

Locate the body regions and cavities
Describe the systems involved in each region
Identify the major organs (tissues and cells) in each system

Anatomical orientation and skeletal system

Define the anatomical position and planes
Classify different types of bones
Describe the bone structure
Locate the major bones of the skeleton

The muscular system

Classify different types of muscles tissues
Indicate the characteristics and location of different types of muscles tissues
Illustrate the actions of muscles

The nervous system and special senses

Explain the differences between the central and peripheral nervous system
Describe the structure of neurons
Describe the major component of the brain
Describe the major structure of the spinal cord
Recognize the special sensory organs and their functions

Cardiovascular and pulmonary system

Recognize the structure of the heart and different types of blood vessels
Trace the major blood flow through the heart
Recognize the major structure of the lung and passageways
Trace the airflow through the pulmonary system
Module 3 – Healthcare-discipline Specific Role Plays and Round-up Session
Six role-play videos demonstrating the application of anatomy knowledge being used by the six healthcare disciplines
Visiting Professors to share opinions in the application of essential anatomy knowledge related to the case and their disciplines
Certification
The Hong Kong Polytechnic University edX certification (Paid only)
Trainers
John Yuen – Associate Professor at The Hong Kong Polytechnic University
Allen Cheong – Associate Professor at The Hong Kong Polytechnic University
Josephine Lau – Lecturer at The Chinese University of Hong Kong
Richard Li – Clinical Neurologist at The Hong Kong Stroke Society
William Tsang – Professor at The Open University of Hong Kong
Kevan MA Gartland – Professor at Glasgow Caledonian University
Roger Watson – Professor at University of Hull
Patrick Brennan – Professor at University of Sydney
Helen Eng – Clinical Optometrist at The Hong Kong Polytechnic University
Kit Sinclair – Past President at World Federation of Occupational Therapists
Judi Laprade – Senior Lecturer at University of Toronto
Additional features
World-class institutions and universities (Hong Kong Polytechnic University)
edX support
Shareable certificate upon completion – Paid
Instructor support – Paid
Graded assignments and exams – Paid
Things I Didn't Like
You will need to pay in order to get assignments and support.
3. Best Value for Money – Straighterline Online Anatomy & Physiology I
Course Completion Certificate
1 Month
20-25 hours a week
Self-Paced
Introductory
This course has a well-structured syllabus and complimentary study material.
It includes the organization of the body, characteristics of life, anatomical terminology, how the body maintains homeostasis, the relationship of chemistry to anatomy and physiology, cell function and division, skin, skeletal system, muscles, nervous system, sensory organs, and the endocrine system.
What will you learn?
It provides a working knowledge of college-level anatomy.
This course fulfills general education requirements in science, fits into our affordable degree plans, includes one-on-one academic support (tutoring), and is covered by the StraighterLine Credit Transfer Guarantee.
Key features
Sign up and get started in minutes
eTextbooks included for FREE!
Work at your own pace
Take your exam when you're ready
You can finish in less than 30 days
No-fee transcripts and easy credit transfer
Course structure
This course is structured in two parts
Anatomy & Physiology I from McGraw-Hill – 3 Credits
Anatomy & Physiology I Lab from eScience Labs – 1 Credit
Anatomy & Physiology I from McGraw-Hill – 3 Credits
Introduction to Anatomy and Physiology
Chemistry for Anatomy and Physiology Students
Cell Biology
Genetics
Tissues
Integumentary System
Bones and Skeletal System
Joints
Muscular System Histology and Physiology
Muscular System Gross Anatomy
Functional Organization of Nervous Tissue
Spinal Cord, Spinal Nerves, Brain, and Cranial Nerves
Integration of Nervous System Functions
The Special Senses
Autonomic Nervous System
Functional Organization of the Endocrine System and Endocrine Glands
Anatomy & Physiology I Lab from eScience Labs – 1 Credit
Introduction to Science
Cell Structure and Function
Mitosis and Meiosis
Diffusion and Osmosis
Tissues and Skin
The Skeletal System
The Muscular System
The Nervous System
The Endocrine System
Certification
StraighterLine Credit Transfer Guarantee
Trainers
No Information is provided by the institute.
Additional features
Buy the course and get a copy of "Seeley's Anatomy & Physiology" at no additional cost (a $332.33 value)
Quiz with every chapter
End term exams
Online proctored final exam in order to complete the course
Things I Didn't Like
Student's reviews are not encouraging. According to many student "classes were not much helpful".
Non-Accredited Classes and Certifications from Udemy
Udemy offers a no. of anatomy courses that may help you to understand the topic. But the problem with Udemy is that a university or institution does not accredit it.
But if your priority is to gain knowledge only then you can click here to see a list of all Udemy anatomy courses.
Udemy does provide a course completion certificate but it is not much useful while seeking a job. You can read my article on Value of Udemy Certificates for more information.
Conclusion
There is a whole pool of knowledge out there on the internet. But if you want to play smart, you should go with a piece of structured information that will teach you to step by step.
People who are looking forward to work in the anatomy sector should start with a university-recognized anatomy course.
Over To You
Before starting a course, you must look into the course structure and resources you need to start studying.
Let me know which course did you choose and why. I would love to hear your comments.