Submit Coursera Financial Aid Application For Scholarship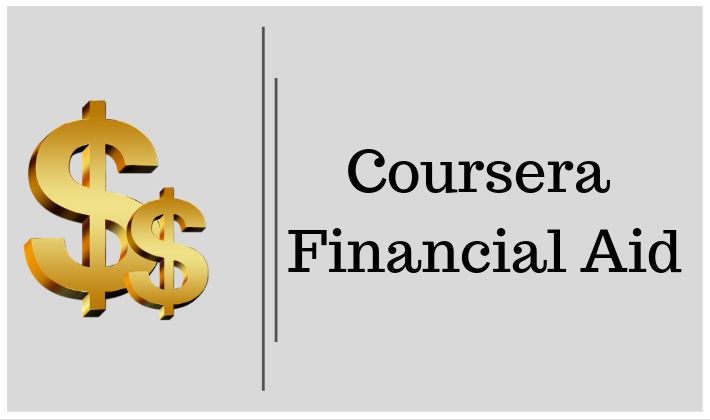 Coursera financial aid is given to people who are not able to pay the fee. They can file a scholarship or financial aid application to get a 100% fee waiver. An application can be filed only for one course at a time.
Each Coursera financial aid application is closely scrutinized for your answers. Coursera approves or declines (rejects) a scholarship application mostly based on how you have answered the questions. The deserving candidates are given the financial aid and are admitted to the course of their choice. This allows them to go through the entire course content without paying any money. They are given the course certificate after completing the required course work.
I have written this article to provide detailed information on Coursera financial aid as application process is somewhat tedious. You will be able to answer application questions and apply for the scholarship after reading this article.
Coursera Financial Aid or Scholarship
What is Financial Aid?
Financial aid is simply a form of fee waiver provided by the Coursera so that certain courses become accessible to the people who lack financial wherewithal.
Coursera provides online learning in partnership with leading universities and top multinationals. Some of these courses are expensive and out of reach for many people around the world.
The founders of Coursera wanted everyone around the world should have access to quality education. So they developed a system to give financial aid to the people who can benefit from their paid courses but can't afford them.
Coursera provides aid to many courses but not all of them. You can go to the course page to check if the aid is available; it will say "Financial aid available" at the top of the page.
You can apply for financial aid for only one course at a time. If you want to do a Specialization, which has six courses then you will have to fill six separate applications – one for each course starting with the first course.
You may or may not get approval for all your applications. If you are really deserving Coursera will waive the fee for all the Specialization courses. Even if you get approval for three of your applications, your cost will go down to half.
Who Should Apply for Scholarship?
Anyone can apply for the scholarship. Coursera doesn't prohibit anyone from applying but you should apply only if your financial circumstances are not good and the course can help you in achieving your career goals.
Coursera has been offering quality education at a very low price. A course costs USD 39-79. A Specialization having six courses can cost up to USD 474. Most people can afford to pay this amount.
If you can afford to pay money, answer the following questions. Will you be able to get a better job by completing a Specialization/course? Will you be able to recoup cost of a Specialization/course?
If the answer to the above questions is yes, you should invest in the courses of your choice. You should not apply for the aid just to get a course for free lest it spoils the chances of a more deserving candidate.
How to Get Coursera Courses for Free?
Who doesn't like free? Everyone does.
Financial aid is one of the ways to get free courses but there are two other ways.
1. Course Audits
Many courses on Coursera have an option to audit the course. This allows you access most of the content and learn for free. It is beneficial for you if you just want to learn a new subject and are not specifically looking for a certificate.
By doing an audit, you will be able to see most of the course material but you will not be able to submit some of the assignments or get grades for your work. You will also not get the course certificate.
You can audit a course by going to the course page and clicking 'Enroll'. At the bottom of the window, you will see 'Audit' button.
2. Free Trial
Coursera provides an option to look at the course course content before buying it. A 7 days free trial starts as soon as you enroll into a course. During the trial period you can complete a course and even try a Specialization for free.
You get access to all course content during the free trial period. You can even earn a certificate if you complete the course before the trial period ends.
You can start a free trial by going through the following steps:
Login to Coursera account.
Go to the course or Specialization page that you wish to try.
Click Enroll.
Click Start Free Trial.
Note: You are eligible for only one free trial per course or Specialization.
Coursera Financial Aid Application – Questions & Answers
You will have to submit an application to get financial aid. In the application, you will have to provide information about your educational background, career goals, and financial circumstances.
After you submit the application, Coursera will take up to two weeks to review your application. Your application can be either approved or denied. Coursera will send an email to let you know about the status of your application.
To apply for the scholarship on Coursera, just follow below mentioned steps.
Login to your Coursera account.
Choose the course you want to pursue from the list of courses.
After selecting the course, you need to check whether your course provides a scholarship or not. It is there in most cases.
Click on "Financial Aid Available".
Fill in the required information.
Wait for Coursera's response.
Points to keep in mind while applying for Coursera scholarship:
You can only apply for Coursera Scholarship on Desktop Version.
You need to submit one Photo Id as proof.
You need to answer the questions in at least 150 words. Coursera won't accept if the application has less than 150 words.
Coursera will take at up to two weeks to review your application.
While you wait for Coursera's review, you can start auditing the course.
Your application will be approved or denied. In either case you will get an email from Coursera.
There are two main questions that you will need to answer as part of the application. These are imporant question so spend some time on them. You should answer these questions truthfully.
1. Why are you applying for Financial Aid?
For this you will have to explain your financial situation and provide a reason for the need of scholarship. You can simply mention, that you do not have enough funds to pay course fee.
2. How will taking the course help you achieve your career goal?
For this write about your career goal and explain how taking your chosen course will help you in achieving the goal. Try to be clear about your goals in your professional life.
I found a few answers by financial aid seekers on the Internet. You can use their ideas for formulating your answers but you should be careful as I have not checked the veracity of their statements. Here are the answers – link1, link2, link3.
Final Thoughts
Financial aid can prove to be extremely advantageous when you are on a budget. The approval of your application depends on how well you answer the questions.
There is a high chance of approval if you give truthful representation of your situation.
Over To You
Which course or Specialization are you interested in? What answers are you thinking of putting in your application?
Let me know in the comments below.