Coursera Review: Top Reasons To Buy Its Courses [2023]
This article provides a thorough review of Coursera. You will find details regarding Coursera's offers types of courses, fees, and advantages and disadvantages in this article.
Coursera is one of the few platforms that provide certification and degree courses from top universities. There is another notable and worthy competitor is edX. Both are very good. Ultimately it comes down to personal choice, of course, instructor, and university.
Let's talk about Coursera in this article.
Coursera Review
About Coursera
Coursera was founded by Andrew Ng and Daphne Koller in 2012. It is a for-profit American E-Learning platform. It works with the top universities and to provide courses on diverse subjects.
Coursera was started with the vision that anybody, anywhere should have access to good quality education and knowledge.
Since it has the aim to cater to a wide audience, it offers courses in 13 languages including English, Spanish, Chinese, French and Russian among others.
It caters to dozens of fields in order to achieve meaningful career, educational, and personal enrichment goals of their consumer's lives.
What Is Coursera?
Coursera is an online learning platform to provide high quality education.
Coursera offers courses, specializations, and degrees. Over the past years, Coursera has had tie-ups with a large  number of the best universities around the world.
You can click here To know more about the platform.
They have got the teachers from University like Yale, Wharton, Stanford, National University of Singapore, etc. These are among the best universities around the globe.
Coursera Accreditation And Partnership
Coursera has partnership with tons of universities all over the world. The faculty from these elite universities makes sure that there is good content available. You can click here to know more about its partnerships.
If you have any doubts about the credibility of Coursera check my article on is Coursera legit.
Coursera Courses
Coursera holds tons of courses on its platform. The courses range from Arts, Computer Science to New Technology like Data Science. Some of the popular subjects are listed below:
Arts & Humanities
Business
Computer Science
Data Science
Information Technology
Health
Math & Logic
Personal Development
Social Sciences
Language Learning
These are all the broad categories of courses. If you look into each category, you will find many sub-categories.
Coursera Certificates
Coursera provides certificates and degrees for all of its courses and are provided from some of the world's renowned universities. Coursera provides following types of certifications:
1. Degree Programs
Coursera offers a Master Degree in the fields of Business, Computer Science and Engineering, Data Science and Public Health. The platform has the option to  complete a masters degree.
The admission to these programs takes place just as it is done for traditional classes. You need to fill the forms within the date. The curriculum is also same. Only thing is that the videos are pre-recorded.
You have to submit assignments and take regular tests to get the degree. These are the online degrees from the top-ranking universities of the world.
2. Master Track Certificate
This course helps you to complete your masters degree from the top universities of the world. The programs have been divided into several modules to help ease your education. You will be required to do real-world projects. The experts will be mentoring you live.
Before applying for Master Certificate, you need to qualify for this program. You need to satisfy the conditions mentioned in the program. Your application will be reviewed by the university and verify if you fall in their criteria.
Note: Check the requirement, before taking any master degree. You will get a clear idea if you could qualify for a course or not.
These courses offer a wide range of platforms for everyone to view upon.
Courses don't start at any random time. There is a specific time duration in which you can enroll for the course. You have to wait for some of the courses to start. You can check the dates regarding which courses will begin when. Normally, there is not a long wait for the course.
There are also some of the courses that don't require any specific timing for their commencement. You can enroll in those courses at any time that suits you. You can check if that particular course has any starting date or not.
Need help finding the best course for yourself? Click here.
3. Professional Certificate
It is best suited for people seeking a job. You complete a certificate that helps you to pass the Industry level exam. This could also help you with relevant experience to launch a career in a new field.
4. Certificate Courses
Single Courses which are in demand fall under this category. You could show this to your potential's employers. These certifications could help you in landing a job or getting a promotion.
A verified course is for single course like – Python, Java, etc.
5. Specialization Certificates
These are the certificates that you get after completing certain skills. This certificate is offered to you when you complete certain set of courses and obtain the necessary skills.
It consists of 5-6 courses like – Data Science, Big Data, etc.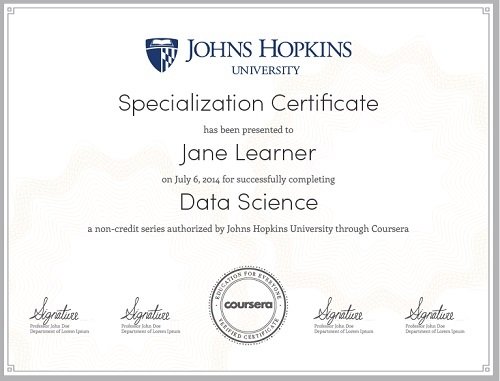 For more information click here.
When you want to master a skill, then taking a few courses wouldn't be sufficient. You have to take a multiple number of classes to master that skill. If this holds true for you, then Coursera Specialization Courses are for you.
You have to complete a series of rigorous tests. You need to submit hands-on projects, quizzes, etc. to get the certificate. After doing all of this you will be able to achieve a Coursera Specializations Degree.
Coursera Pricing
The prices on Coursera are pretty much hidden. It wouldn't be shown to you till the time you don't enroll in that course.
The prices on Coursera differs greatly. The prices depend upon the courses, the university offering it and many other factors.
Coursera runs on 2 different plans for different users: –
1. Coursera Subscription
Some of the courses run on a subscription-based model. They offer you a free trial of 7 days after which they charge you for the courses you've opted for. The Price would be ranging from  $39 to $89 per month.
The courses offered in this plan are usually Specialization Courses. You can continue learning till the time you are paying.
Some of the verified courses are also included in this category.
2. One-Time Payment
The fees on this plan has a one-time payment are just for one time. No need to pay monthly fees for the course.
You can buy whole courses at once. The courses that usually comes to this price range are master degree and verified course.
For a verified course, you have 180 days (from the day of payment) to clear the test and get a certificate.
The prices are very different for the master program. The prices could be in between $15,000 – $20,000 for the courses. But again, this could vary depending upon Universities and courses.
You can go to my detailed article on Coursera Pricing to learn more about its fee structure.
Coursera Master Degree Plan
The master degree courses on Coursera generally ranged from 1-3 years
The master degree courses start at a predefined time. You can't just enroll in these courses at any random time. You will also have to wait until the course begins. But till that time you can look at their overview and get more insight into that.
Information regarding the instructors, universities offering the course, etc. are also available. You can go through it to determine whether they fulfill your needs or not.
For more information, find out how much it costs to enroll in a Coursera degree.
Coursera Financial Aid
Coursera does provide financial aid for the people who find it difficult to pay the fee.
If you want to apply, click here.
It can take up to 15 days to get approval for the financial aid to come through. In the meantime, you can start learning in "Audit Mode".
While your application is under review, I'd advise you start your journey of learning. Coursera only provides 180 days to complete your certification.
To know more on how to apply for Coursera financial aid, check this out.
Coursera Free Courses
Coursera provides certain courses for free as well.
Free Courses on Coursera
How can you get courses for free?
You can audit the courses you're interested in on Coursera for free. They will not charge you a single penny for auditing the course. You will get this option (Audit) to at the time of enrolling in the course.
You will get an option to pay or to audit the course for free.
What is Auditing in Coursera?
Auditing lets you get access to all the course material, the videos and the tutorials for free.
There are few drawbacks of using free courses. These are as following:
No Certificate – You will not be awarded any kind of certificate for auditing. You can learn the courses but you wouldn't get any credits for this.
Can't help you in your career: – the point above leads to the fact that you won't be able to showcase your skill to your employer with the credibility of a certificate.
Can't Show Your Talent To The World – No certification also means that you will not be able to add the subject learnt onto your resume.
Not All Courses Have This Audit Facility – So, most of the programs on this platform have this audit facility, but not all. Free Auditing is set by universities. They could able or disable this facility.
Final Thoughts – Benefits Of Coursera
USP
The USP (Unique Selling Point) of Coursera is that it offers courses from leading global universities.
Pros
Taking all that has been discussed into consideration, let me take you through the pros and cons of Coursera.
Flexibility in studying –You can study as per your convenience, at any time and place. You can study from the top-ranking universities of the world sitting at home.
Global Experience – It provides you with a global experience and help you with global exposure. The instructors are from universities all around the world.
Mobile App – Coursera is available as a mobile application. This app greatly removes the dependency of carrying your laptop everywhere. With the mobile app, you can study anytime, anywhere.
Downloadable videos -Coursera provides a range of courses that you can download. So, even when you are not connected to the internet for whatever reason you can still study, thereby increasing your convenience.
Certifications – You will be awarded a certificate after the completion of your course by whichever university you had opted the course from. Although, it requires a small amount of fee. These certificates could help you in your professional life by building on your resume. You can also add these certificates to your LinkedIn Profile.
Financial Aid – If you don't have the monetary funds to pay for the courses you may apply for financial aid.
Free to Learn – there are certain free courses available on Coursera. Other than those you can learn almost any course for free using the audit mode.
Many Specializations and courses – Coursera provides a wide variety of courses on its platform. There are literally get 1000s of courses available on Coursera. You can check here the list of courses available.
Multiple languages – Coursera provides its courses in multiple languages. It mainly provides them in 9 major languages. You can check the languages directory here.
Professional certificates from Google, IBM, etc – You will be able to get a Professional Certificate from some of the best companies in the world. You can get a certificate from corporations like Google or IBM. These certificates present a high value.
Academic and Technical support – Coursera also believes in providing academic and technical support to the learners for all its courses. This assistance is provided throughout during your course period.
Cons
There are some drawbacks of Coursera as well.
Costly – Coursera could prove to be costly for some people. But, if compared to the university fee it comes out to be cheaper.
Doesn't Help In Job Search – There is no platform on Coursera to find a job. You have to work on finding one yourself.
Who Should Buy Courses From Coursera?
Coursera courses can be bought by individuals depending upon their needs. Advance Your Career – Coursera could help you with your career advancement by providing a platform to master skills and providing certificates for the same. You can add this onto your resume to make it more attractive for your potential employer.
Complete Higher Education – You can complete higher education from Coursera by doing a masters degree. So, if you aim to pursue higher education sitting at home then you should definitely give Coursera a try. You will be accredited with a certificate from the top universities of the world.
Passionate About Any Skill – If you are passionate about learning a skill, and a certificate is of less importance to you, then you should apply for Coursera as you will be able to learn those skills for free.
Coursera is a platform to learn from the world's best university. You can join Coursera if you want to have global exposure. It would add an extra edge in your resume. The certificates are from some of the best in the world. You can start with a free trial.
Over To You
Would you be using Coursera for your career enhancement? What do you think are its unique benefits? Why do you think Coursera is not worth the money?
Do let me know in the comments below.