Is Coursera Legit? Are Its Courses Accredited/Recognized?
You might be thinking of investing in Coursera for learning new things and furthering your education but you may have some doubts. You might be wondering:
Is Coursera Legit?
Are Coursera courses accredited?
Are Coursera certificates recognized and valid?
Is Coursera a scam?
Let me say that Coursera is legit and is not a scam. Coursera courses are accredited by the leading global universities and its certificates are recognized by many employers. Unlike many other eLearning course providers, it hands out  verified certificates and real degrees that can useful for your career.

In this article, I have discussed how Coursera's online programs can help you in self-development, further education, and finding jobs. I have written about how its affiliation with top institutions and association with leading multinational companies can help you in hiring process.
Before reading ahead, I would recommend you to join Coursera for free. This way you will be able to test run its features and realize the value of Coursera programs.
You can also read my article on Coursera review, which talk Coursera's advantages and disavantages in more detail.
Is Coursera Legit?
Coursera is legit. A thing is considered legit only if it is extremely good. It is true & genuine. It provides valuable job oriented courses in association with leading institutions. Furthermore, it should not be a scam and a fraud.
Coursera provides a facility to audit its programs free of cost. This way you can judge the genuineness of a course before paying for it.
Coursera was started by Stanford Professors Andrew Ng and Daphne Koller in 2012. They wanted to make good quality education accessible to everybody around the world. It is one of the few MOOCs that provide MasterTrack certificates and real Master's degree from a recognized university.
Coursera doesn't aim to replace traditional learning, but rather provides education platform to those who are either not able to afford a formal education or are physically far away from the course/institute of their choice.
Here is a quote from a Forbes article.
Taking a Coursera course is a wonderful experience that I recommend wholeheartedly. In order to enjoy a course, however, you have to be fully committed to the lectures, review material, quizzes, and must be interested in the topic.
Are Coursera Courses Accredited?
Coursera courses are accredited and recognized by top global institutes. Coursera offers many worthy courses in partnership with the world's leading universities and top multinationals. You can get a verified certificate from Coursera with a logo of the university/institution after completing a course. The stamp of a university/institution proves the validity and accreditation of its courses.
Note: You can audit many courses for free but you will have to pay an additional fee to get the certificate.
At the time of writing this article, Coursera had 200+ institutional partners across 48 countries and it was offering about 4000 courses. Its partnerships include:
US: Arizona State University, University of Michigan, Carnegie Mellon University, and many more.
Non-US: University of London, University of Toronto, HEC Paris, and many more.
Companies: Cisco, Honeywell, AWS, and many more.
Coursera offers five types of courses/certificates.
1. Online Courses
Coursera provides single courses on various topics and skills including data science, business, information technology, health and personal development. Most of these skills have a good demand in industry. You can search an browse different courses by clicking here. You can also read my article on the best courses on Coursera.
All Coursera courses are taught by some of the best teachers from world-class universities and companies.
There are free as well as paid courses. All of them include pre-recorded video lectures, homework exercises, and community discussion forums. In addition, the paid courses include additional quizzes, projects and shareable course completion certificate. The certificates can be used to polish your resume.
Here are some examples of courses available on Coursera:
Cloud computing
Machine learning
Algorithms
Finance
Entrepreneurship
Business strategy
Probability and Statistics
Economics
Physics and Astronomy
You can complete a course in 4-6 weeks. The price of a paid course starts at USD 39. Coursera issues a certificate after you complete a course. It includes:
Name of the course.
Signature of the instructor.
Logo of the partner institution, which is offering the course.
A URL to verify and check the authenticity of the certificate.
A confirmation that Coursera verified the identity of the learner.
2. Specialization
Coursera provides a package of courses to master a specific skill. It is called a specialization. By enrolling into a specialization, you can learn a subject completely.
A specialization are much more rigorous than a single course as it provides hands-on exposure to real business challenges through projects. It is much more valuable also as it gives in-depth knowledge of a subject.
Here are some examples of specialization available on Coursera:
Applied Data Science
Big Data
Mathematics for Machine Learning
Data Structures and Algorithms
Deep Learning
You can master a skill in 4-6 months by taking a specialization. The price of a specialization starts at USD 39 per month. After completing all the courses in a specialization, you will earn a specialization certificate.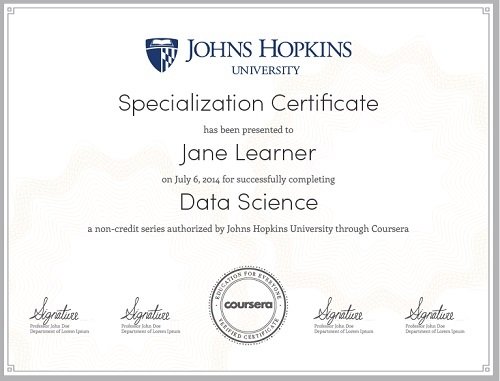 3. Professional Certificate Courses
Professional certificate courses are just like single courses but they are more career oriented. These are offered by the top companies and universities and give you expertise in a trending technology. They help you to become job ready by applying new skills on real-world projects.
You can use these course for career support resources that include resume development help and interview preparation. Many professional certificates find recognition in the industry through hiring partners or a hiring consortium.
Here are some examples of professional certificates available on Coursera:
Google IT Support Professional Certificate
IBM Data Science Professional Certificate
SAS Programmer Professional Certificate
The price of a professional certificate course starts at USD 39 per month.
4. MasterTrack Certificates
What if you wanted to pursue a Master's degree but cannot do it because of lack of funds or times? Coursera provides an answer. It has split portions of Master's programs into online modules, which can be taken through MasterTrack certificates.
MasterTrack will help you to earn a high quality university-issued career credential at a very low price. You will get to learn a new subject in a flexible and interactive format. It provides a deeply engaging learning experience with real-world projects and live expert instruction.
Here are some examples of MasterTrack certificates available on Coursera:
Machine Learning for Analytics
Spatial Data Analysis and Visualization
Software Engineering
MasterTrack credential can be completed in less than a year. It can significantly boost your career. The prices start at USD 2,000 with the option of paying in installments. If, at a later date, you are accepted into a full Master's program, your MasterTrack coursework is counted towards your degree.
5. Degree Courses
Employer's value a full degree much more than any other course. Furthermore, a degree from top universities gets much more recognition.
Coursera offers Master's and Bachelor's degree in association with its university partners. You can get a credible degree from world's top-ranking universities.
A degree from Coursera can transform your resume and boost your career. It gives you the flexibility to study online at your own schedule. There is no need to leave your job or move to a new city to earn a top university degree. You can earn your credits by completing the assignments.
There is no difference between Coursera's online curriculum and on-campus curriculum. Coursera's students get the same credential as a student who attends class on-campus.
Here are some examples of degree programs available on Coursera:
Master of Business Administration
Master of Computer Science
MSc in Innovation and Entrepreneurship
You can pursue an online degree from Coursera at your own schedule. It can be completed between 1-4 years of study. The all-in prices start at USD 15,000 with the option of paying in installments.
A degree from Coursera costs much less than a comparable on-campus program. The cost of an on-campus program can go as high as USD 50,000 per year of study, which does not include incidentals and living expenses.
Is Coursera Certificate Recognized?
Coursera certificates are recognized by organizations. Let me tell you why I am saying so.
Now that we know Coursera offers courses from leading institutions and companies but that does not necessarily translates to recognition. Recognition comes from the industry and not from the course creators. Recognition means creation of new career opportunities. A certificate/degree from a university is good only if it can help you land a job or give you a promotion.
Fortunately, Coursera has done everything to create a distinguished online learning platform. It offers accredited courses from the top universities, which are valued by the industry. Following three things prove the industry recognition of Coursera.
1. Many companies believe that Coursera courses are useful for upgrading their employees' skills hence they have taken Coursera subscription.
2. Many big companies like IBM, Google, and Honeywell have hosted their own courses on Coursera.
3. Coursera offers professional certifications that are oriented towards latest technologies. These technologies are in great demand by employers around the world.
Coursera can do its bit to create career opportunities for you but you will have to put in some effort to make full use of the platform.
Final Thoughts
There is a plethora of knowledge accretive courses available on Coursera. Coursera is accredited by leading universities and associated with many top firms.
You can complete your masters degree without having to leaving your job. Coursera can also help you with possible promotions or to get updated with the latest technology.
Many people are using Coursera to learn or update their skills. I would recommend you to join Coursera for free before taking its paid subscription.
Over To You
What is your take on Coursera? Which programs are your interested to enroll into? Which, in your opinion, are the most recognized universities?
Do let me know in the comments below.