Udemy vs Coursera: Which Is Better For You? [2023]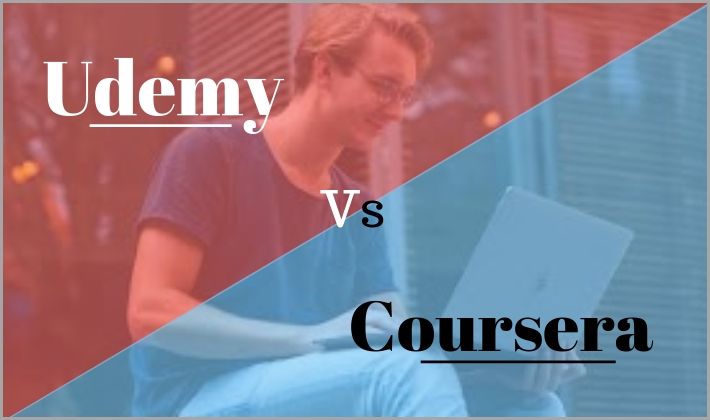 Udemy vs Coursera – There is a vast difference between these two online learning platforms as they serve completely distinct type of learners.
The main difference between Udemy and Coursera is that Udemy provides courses from independent authors whereas Coursera provides accredited courses designed by top universities and multinational corporations. Udemy and Coursera work on a contrasting financial model. The former charges for each course, which can go as low as $10 while latter's pricing is kind of complex. Both have their pros and cons.
You will a detailed and side-by-side comparison of Udemy and Coursera in this this article. The article differentiates these eLearning platforms on the basis of their course offerings, pricing, features, student support, and certificates. It will help you to determine which platform is better suited for your learning needs.
Udemy vs Coursera
Brief Overview of Udemy
Udemy is a large eLearning course platform. It provides a vast variety of courses on hundreds of different subjects.
Udemy could be the most popular and largest online learning platform considering the sheer number of courses it offers. It had a catalog of 100,000+ courses at the time of writing this article. You can find courses on disparate topics like Music, School Science, Software Development, Stock Investing, Languages etc.
There are two big advantages of Udemy:
Its courses are usually available at a very small price. It keeps of running promotional offers throughout the year, You can often buy it courses for as low as $10.
It gives life time access to all its courses.
On the other hand there are some disadvantages also. It has no standardization of its courses as they are developed by independent instructors who are not employed by Udemy. Each course has a different teaching style and some of them may not even have good quality. So, you have to be careful before buying a course.
Udemy does have any quality control process for approving content of a course. The instructors almost get a free hand to make and publish their courses. Due to this reason, there is a vast difference between quality of published courses – you can find very good as well as very bad courses. In order to buy only good courses, you should look at reviews & rating of a course.
On popular topics like Python programming, there are multiple courses. Each course is taught by a different instructor having a different curriculum. Sometimes it becomes difficult to find which one is the best among the hundreds of available courses on the same subject.
You can read my review of Udemy to understand its features and offering in detail.
Brief Overview of Coursera
Coursera differs from Udemy in the sense that it provides only college-style learning to its users. They have tied-up with some of the best universities in the world and provide their courses in the online mode. You can get courses from Universities like – Stanford, Yale University, University of Michigan, and Duke University.
Coursera courses are legit as it provides certificates after completion of a course. At the end of a course, you will get a branded course completion certificate that has a emblem of the partner Institute. Coursera also provides a Degree program in some of the disciplines.
Coursera cost is much less as compared to a regular university course but it is hard to figure out the pricing. You have to create a login to find out the fee for a course.
Side-By-Side Comparison Between Udemy and Coursera
Parameter
Udemy
Coursera

Courses

Type of Courses
Vast number of courses on practically every subject
Career oriented courses on technical, business, and many other subjects
Certificate
Yes, certificate of completion for every course
Yes, certificate of completion with a logo of university/institution
Course Instructors
Almost everyone with a unique knowledge can become an instructor and create a course
Most instructors are from a leading institution/university
Approximate Number of Courses
more than 100,000
more than 2,000
Learning Paths or Playlists
No, courses are meant to be independent of each other
Yes, as part of course specializations
Suitable For
Beginners. Mostly entry level courses are available for students.
Beginners to advanced. Useful for people who are seeking new jobs or promotions

Technical Support Availability

Support Page
Yes, Click Here
Yes, Click Here
Email Support
Yes, you can submit a request
Yes
Chat Support
Yes
No
On Call Support
No
No

Course Support Availability

Instructors Assistance
Yes, Direct messaging available but the response time depends on the availability of the instructor.
Yes, only for MasterTrack & Degree courses.
Experts Assistance
No
No
Community Forum
Yes
Yes

Technologies

Video Player
Yes
Yes
Mobile App
Yes, you can download Andriod/iOS apps
Yes, you can download Andriod/iOS apps
Dashboard
No
Yes

Top 5 Benefits

1.

Huge no. of courses
Career oriented courses

2.

Wide variety of course topics
Accredited certificates from leading universities

3.

Courses are available at a very low price.
Courses designed by Instructors from elite universities

4.

Lifetime access to purchased courses
Degree programs avaiable

5.

Certificate of completion which can be added to your achievements
Much more affordable than regular universtiy education
Detailed Review
Udemy Review
Coursera Review

Course Package

Fee
$20 – $199 per course (depends on country)
Depends on course but usually costs between $39-$89 per month
Discounts
Yes, almost every week with prices dropping down to $10 per course
No but most courses are free to learn
Access Periods
Life Time
Till course completion or 180 days, whichever is earlier
Life time access at a very low price
Courses from top global universities
Final Recommendation
Both Udemy and Coursera are very big online learning platforms but they cater to completely different learning needs. The former provides thousands of courses on hundreds of eclectic subjects while latter provides career oriented courses, which are most suitable for students.
Udemy's courses are taught by independent instructors and they are not accredited by any university or institution whereas most of the Coursera courses are designed by elite universities. The former can help you in upgrading your skills or picking up a non-career oriented skill while latter can help you to get a job or promotion.
Who should Take Udemy Courses?
Udemy is a leading eLearning platform that offer courses at a very reasonable price. You can use its courses to learn practically anything under the Sun. You can use it is you already have a reasonable idea about a subject and want to polish your knowledge with latest trends. You can also use it if you want to learn a hobby subject like Yoga, Meditation, or Culinary.
Who should Take Coursera Courses?
Coursera offers courses from leading universities and top multinationals. You get a university branded course completion certificate, which can help you in getting a job.
Coursera courses are aligned to the current job market. They are especially useful for students who want to pursue an university course at an affordable price.
If you are a young student then I would recommend you to start using Coursera by auditing a course. You can buy it later if you like it.
Over To You
Which platform did you choose? Which one is more appealing – Udemy's deep discount pricing or Coursera's university courses?
Let me know your thoughts in the comments section below.