Udemy Vs Lynda (Linkedin Learning): Which One Is Better? [2023]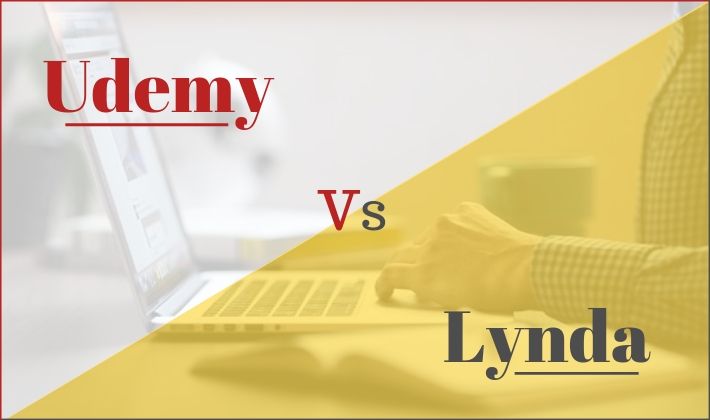 You might want to know which comes out on top in Udemy vs Lynda (aka LinkedIn Learning) shootout and which one is better for your online learning needs?
Udemy and Lynda (Linkedin Learning) are vastly different platforms catering to distinct learning needs. You can learn any kind of subject on Udemy.com but Lynda.com is restricted to three main areas. Udemy sells individual courses while Linkedin Learning runs on subscription-based membership model. Both have their own advantages and disadvantages.

You will find a one-on-one comparison and differences between of Udemy and Lynda in this article. After reading the article, you will understand the distinction between cost, course offerings, features and benefits of these eLearning platforms. You will find out pros and cons of both platforms, which will help you in deciding the right website your learning needs.
You can start using Lynda with a free trial. By using the free trial, you will be able to test its features and explore its courses. Free trial will also help you to easily understand the points written in this article.
Click here to start Lynda's free trial.
Udemy Vs Lynda (Linkedin Learning)
The pricing and business model of Udemy and Lynda is completely different. Udemy has a listing of thousands of courses on hundreds of topics. It is akin to a big shopping store where you can buy anything. On the other hand, Lynda offers courses under 3 broad categories viz. Business, Technology, and Creative.
You can buy any course on Udemy and it becomes yours for the lifetime. Lynda, on the other hand, provides a monthly and annual subscriptions. Unlike Udemy, you cannot buy a single course on Lynda but you can access all its courses during the period of subscription.
Udemy Brief Overview
How long can you keep a book after buying it? For your lifetime.
Udemy courses are same. One you buy a course, you can keep it for your lifetime.
The biggest advantage of Udemy is that you get lifetime access to course at a very low price. A course can cost up to $200 but you can get it as low as $5 during Udemy sale. Udemy sales occur almost throughout the year. The course price varies from country to country. You can go to Udemy homepage to find out the price in your country and current sale.
You can learn practically any subject on Udemy. It has 100,000+ courses in its catalog. You can find courses on standard topics like programming, accounts, mathematics, psychology and esoteric topics like meditation, yoga, toy making. You will often find more than one course on any topic and often there are dozen of courses on popular subjects like software development. It gives you an option to compare and choose from multiple courses available on the same subject.
Udemy has a 30 day refund policy. You can ask for refund if you are not satisfied with a course.
There are some inherent disadvantages of Udemy. The quality process is very thin. It does not have proper checks and balances for creating good quality courses. It does not have a peer review system. On the positive side though, Udemy has a rating & feedback system, which can be used to select and buy good courses.
Lynda Brief Overview
What books can you read when you take a library membership? Every book from library's catalog.
Lynda is like a big library. You can enroll into any course after taking its membership.
The biggest advantage of Lynda is that there is no limit to your learning. You can learn any subject in detail at a very low cost. The price of Linked Leanrning varies from country to country but you can buy it for as as $13 per month in some countries when you buy its annual subscription. You can click here to check the price in your country.
By taking Linked Learning's subscription, you can learn a subject in complete detail. Firstly, you can enroll into all the courses of a subject. Secondly, Linked Learning gives an option of enrolling into a learning path. A learning path is a curated sequence of courses on a broader topic, which allows you to learn a subject in depth.
Linked Learning gives a certificate after completing a course. This certificate can be displayed on your Linkedin profile. It can help you while applying for jobs.
On the downside, Linkedin Learning courses don't have a course rating. People who go through a course can either like it or do nothing. So, you cannot tell if a course is good or not without taking it. But, since Linkedin Learning comes with option of eat all you want, you can always enroll into a course and leave it in-between without paying any extra money.
Side-By-Side Comparison Between Udemy And Lynda
Parameter
Udemy
LinkedIn Learning or Lynda

Courses

Type of Courses
Many different type of topics and courses are available
Business, technology & creative courses
Certificate
Yes, certificate is provided at completion of course
Yes, certificate is provided at completion of course
Course Instructors
Any knowledgeable person can become an instructor
Any knowledgeable person can become an instructor
Approximate Number of Courses
100,000+
15,000+
Learning Paths or Playlists
No, courses are not related to each other.
Yes, learning paths are available to learn a subject in-depth.
Suitable For
Most of the courses are designed for the beginners
Beginner to expert, Courses available for all level of students

Technical Support Availability

Support Page
Yes, Click Here
Yes
Email Support
Yes, you can submit a request here – https://support.udemy.com/hc//requests/new?type=student
Yes, You can create a support ticket via help page
Chat Support
Yes
Yes
On Call Support
No
No

Course Support Availability

Instructors Assistance
Yes, you can directly send messages to instructors
Yes, you can directly send messages to instructors
Experts Assistance
No
No
Community Forum
Yes
Yes, LinkedIn Learning groups available with courses and is hosted in private/unlisted groups on LinkedIn.com

Top 5 Benefits

1.

Choose from a Large pool of courses
Enroll into any course under a single subscription

2.

Choose from a wide variety of topics
Get Instructor assistance, you can also visit the instructor's LinkedIn profile and request connections

3.

Pay a very low price for a course
Learn from technical, management, & creative courses for a better professional career

4.

Get life time access to the purchased courses
Use Linkedin profile to display your certificates

5.

Get certificate of completion after completing a course
Get certificate of completion after completing a course
Detailed Review
Udemy Review
Lynda Review

Course Package

Fee
$20 – $199 per course (depends on country)
$19 – $300 (depends on country)
Discounts
Yes, almost every week with prices dropping down to $10 per course
Yes, sometimes
Access Periods
Life Time
Monthly, yearly, and till course expires

USP

Variety of courses for a life time Access at a very low price
Very large number of courses and backed by a multi-billion dollar company
Final Recommendation
The business models of Udemy and Linked Learning are complete different. It is not fair to compare these eLearning platforms on their courses, prices, and features. They both are good platforms are suitable for different learning needs. They come with their own set of advantages and disadvantages.
Even though Udemy comes with an appealing price and lifetime access, you can buy Lynda's subscription if you to do more than one course at a time.
You can invest in either one of them depending on your learning goals.
Who Should Invest In Udemy?
You can buy a Udemy course if you want to learn a single topic or want study material for log term reference. Udemy is especially good for people who are interested in hobby topics. There are no courses on Linkedin Learning for many of the hobby topics.
Who Should Invest In Lynda?
You can buy Lynda subscription if you want to learn a subject in complete detail. Lynda is especially good for people who are looking for a new job or want promotion in their existing job. You can prominenetly display your course completion certificates in your Linkedin profile, which can help you in your career.
Linked Learning allows you to pursue a plethora of courses at a very low monthly subscription cost. You can start learning expedition by taking its free trial.
Over To You
Which platform did you choose and why? Did you find Udemy's low cost and lifetime access better or Lynda's low subscription better?
Let me know your thoughts in the comments section below.