Udemy Vs Treehouse: Which Platform Is Better For You? [2023]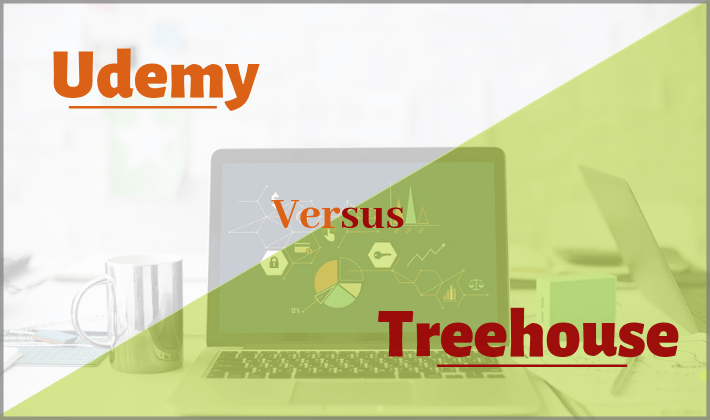 You might be looking for a Udemy vs Team Treehouse comparison. You want to buy a course but are unsure about the differences between these two online learning platforms.
The main difference between Udemy and Treehouse is the number of course offerings and their business model. At the time of writing this article, Udemy was offering 100,000+ courses on almost every kind of subject whereas Team Treehouse had only 300+ technology oriented courses. Udemy sells individual courses for as little as $10 but Treehouse works on a subscription model.
If you look just at the number of courses, Udemy wins hands-down but there is more to a platform then just a list of courses. It is premature to pronounce a winner based on the number of courses offered. The features of Udemy and Treehouse are completely different – both have their own advantages and disadvantages.
I have written this article to do a side-by-side review of teamtreehouse.com and udemy.com. You will find an analysis and comparison of their features, pricing, course offerings, and a few other things in this article. After reading it, you will know which one of these two platforms is more beneficial in fulfilling your learning needs.
Team Trehouse provide a free trial to explore its courses and features. I would suggest you take the free trial as you read this article further.
Udemy Vs Treehouse
Udemy and Treehouse have contrasting business models. Udemy is an online marketplace that sells thousands of courses on various subjects whereas Treehouse provides only technology and programming related courses. Unlike Udemy, Treehouse doesn't sell individual courses but offers subscription plans. You can enroll into any of Treehouse's programs by taking its monthly or annual subscription.
Courses on Udemy are are created by independent instructors who are not employed by Udemy. On the other hand Treehouse courses are are designed and created by the instructors who are employed by Treehouse. Treehouse maintains a strict control over curriculum and quality of its courses.
Udemy Brief Overview
Udemy is an all-purpose learning platform. It offers a wide variety of courses. You will find thousands of courses on diverse subjects like technology, software development, management, basic sciences, meditation, human psychology, everyday hobbies, and many more.
At the time of writing this article, it had 100,000+ courses on its platform. The courses are developed by a huge number of independent instructors. You will often find more than one course on the same topic, which are created by different instructors. Sometimes, it becomes difficult to choose the right course among tens of courses that available on the same topic.
Udemy does not maintain a strict control over the course authors and they do not have a proper course review system. Due to this reason, sometimes it becomes hard to assess the quality of a course. On the positive side though, Udemy has a rating & review system, which can be used to select and buy good courses.
You get life time access to all the courses that you buy from Udemy. I think this is the best feature of this platform.
Team Treehouse Brief Overview
Treehouse has a much smaller target audience. They focus mainly on software developers. You will find courses on subjects like web programming, software design, and mobile app development.
At the time of writing this article, it had 300+ courses on its platform. The courses are developed by the instructors employed by Treehouse. Treehouse maintains a strict quality standard over its courses so they are deemed to be authentic and genuine. All the courses are integrated into tracks to help the students.
Treehouse courses and learning tracks provide practical experience. You can get feedback and code reviews. It offers excellent support through a vibrant community forum, which you can turn to in case you are having a problem.
Treehouse works on subscription model. You can buy their subscription on a monthly and or yearly basis. You can enroll into as many courses as you want during the subscription period.
Treehouse has a program called "Tech degree", which, in my opinion, is the best part of this platform.
Side-By-Side Comparison Between Udemy And Treehouse
Parameter
Udemy
Treehouse

Courses

Type of Courses
Courses on almost any topics under the sun
Only programming courses are available
Certificate
Yes, after completing every course
Yes, certificate is available only for Techdegree
Course Instructors
Only high level scrrening is done to shortlist an instructor
Instructors are shourtlised after cheking their expertise
Approximate Number of Courses
100,000+
300+
Learning Paths or Playlists
No, courses are not part of any specific path
Yes, Corses are part of learning tracks
Suitable For
Most courses are designed for the beginners
Courses are available for all levels of programmers

Technical Support Availability

Support Page
Yes, Click Here
Yes, Click Here
Email Support
Yes, you can submit a request here
Yes, [email protected]
Chat Support
Yes
No
On Call Support
No
No

Course Support Availability

Instructors Assistance
Yes, you can direct message to the course instructor
No
Experts Assistance
No
No
Community Forum
Yes
Yes, you get access to treehouse's student community

Technologies

Video Player
Yes
Yes
Mobile App
Yes, available for Andriod and iOS
No, you can view courses using mobile browsers
Dashboard
No
Yes

Top 5 Benefits

1.

Wide variety of courses are available
Dedicated niche for technology courses

2.

You can gain knowledge on almost any subject under the Sun
Low subscription price

3.

Courses are available at an affordable price
Techdegree certificates

4.

No limitation of time. Get access to courses for your lifetime.
Learning tracks to keep you on the right path

5.

Complete any course to completetion certification
Thriving community of students
Detailed Review
Udemy Review
Treehouse Review

Course Package

Fee
$20 – $199 per course (depends on country)
$19.99 – $199 per month
Discounts
Yes, almost every week with prices dropping down to $10 per course
Yes, sometimes
Access Periods
Life Time
Till the end of subscription period

USP

Life time access to courses at a very low price
Learning tracks, techdegree, and student support
Final Recommendation
Udemy and Treehouse have very different business models. The prices and features of these two platforms are not strictly comparable. One is not better than the other – both have their pros and cons. Treehouse offers a subscription plan whereas Udemy sells individual programs. Treehouse provides better learning support whereas Udemy offers life time value.
You can buy either one of them depending on your learning goals.
Who Should Invest In Udemy?
In my opinion Udemy is best suited for people who are looking for a singular course to learn the basics. It is especially useful for non-technology courses or offbeat & hobby courses like music, foreign languages, yoga, and stock trading. You will not find these type of courses in Treehouse.
Who Should Invest In Team Treehouse?
Treehouse is suitable for programmers and technology workers. You can take subscription of this platform if you are:
a student or a beginner who wants to learn everything about a technology.
an experienced personnel who want learn a new technology.
working in a different industry but want to take up a technology job.
You can use their certified degree programs for upgrading your knowledge that might help you in promotion or getting a job. I would suggest you to start with Treehouse free trial to understand their value.
Over To You
Which platform have you chosen and why? I would love to hear your comments below.
Related Articles